Event Details
FASHRM April Meeting
Date:
April 22, 2020, 6:30pm
Organizer:
Location:

Welcome & Meeting Officiator: Kenneth Mayes
Location: Online Meeting through ZOOM Internet Meeting Application
Zoom Link: Time: 6:30 P.M. – 7:45 P.M.
Topic: Key skill needs for future HR professionals with Susan Kelliher, Senior Vice President of HR @ Chemours
Time: Apr 22, 2020 6:30 PM EST



Price:
Event Type:
iCal link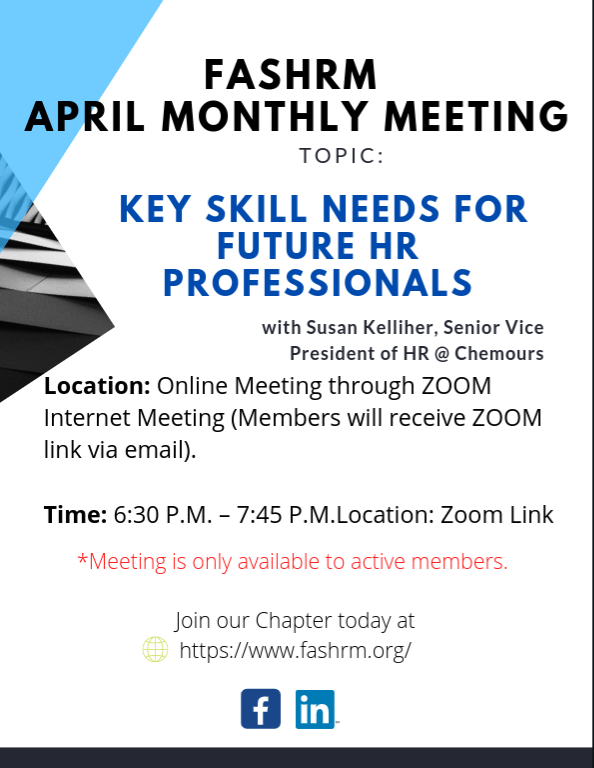 FASHRM is proud to present Susan Kelliher, SVP of HR and Chief People Officer at Chemours
Over her 25-year career in Human Resources, Susan Kelliher has supported a wide variety of industries and companies, including The Mobil Oil Corporation, Pizza Hut, Raytheon Company, The Home Depot, Hewlett-Packard, and (immediately prior to coming to Chemours) Albemarle Corporation, a Baton Rouge, Louisiana–based specialty chemicals company.
Within Human Resources, Susan has pretty much done it all—cultural transformation oversight, compensation philosophy, talent development, succession planning, and more. She emphasizes hiring the right people: "If you bring in people who are good at what they do—and then trust them to do it—driving positive results becomes easy." Paraphrasing the philosopher Goethe, she adds, "Treat people as if they already are what you want them to be, and they will become that."
Between her husband's military service and her own career path, Susan has lived in many places: Texas, the East Coast, the West Coast, the Deep South, and now Wilmington, Delaware. As for which she prefers, her response is unequivocal: "All of them. Each has been an adventure."
Susan has some measure of fluency in Spanish, French, and Mandarin Chinese. Spanish because she grew up in Texas. French because she studied it in high school and college. And Chinese because as a student at Rice University she became interested in Chinese culture. She began studying Mandarin and spent a semester studying abroad in China. Since then, she has found ways to keep it fresh.
Susan holds a bachelor of arts in Asian studies and political science from Rice and an MBA with a concentration in international business from the University of Texas.