Event Details
Results through Relationships | SDI 2.0 Assessment
Date:
May 25, 2022, 11:30am – 12:30pm
Organizer:
Location:

Register in advance for this meeting:

 https://us02web.zoom.us/meeting/register/tZAodO6gpzgrH9OvzHwMeSDKLtcyPUfALhaa

Price:
Event Type:
iCal link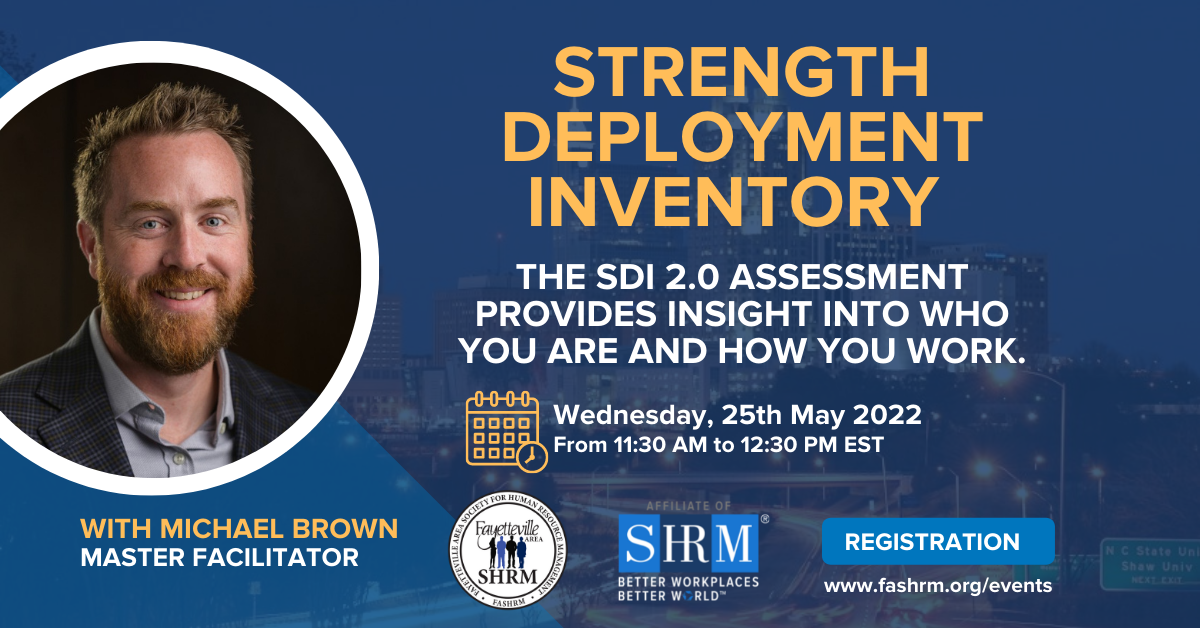 Join us for this month's FASHRM chapter meeting as Michael Brown, MASCL of Core Strengths discusses the insights of the Strength Deployment Inventory (SDI) 2.0 assessment.
Rather than focusing on WHAT we do, the SDI® 2.0 helps us understand WHY we behave and HOW we relate to each other. Using Relationship Intelligence (RQ), the SDI 2.0 provides a common language for understanding what's important.
Relationship building is more than a soft skill, and the SDI 2.0 plays a direct role in helping us relate to others – building our ability to improve dialogue.
With a focus on our Motives, the SDI 2.0 provides a critical connection to a key leadership skill – the "art of influence." It is easier to communicate with and influence someone when what's important to them is understood. This insight helps you choose the best approach for engaging people whose thinking and behavior appear much different from your own.
---
Register in advance for this meeting:
https://us02web.zoom.us/meeting/register/tZAodO6gpzgrH9OvzHwMeSDKLtcyPUfALhaa
After registering, you will receive a confirmation email containing information about joining the meeting.
*FASHRM members will receive a link to participate in the SDI 2.0 assessment, free of charge, prior to the meeting.