Event Details
Mental Health Matters
Date:
September 28, 2022, 11:30am – 12:45pm
Organizer:
Location:

Register in advance for this meeting:
https://us02web.zoom.us/meeting/register/tZwtfuqpqDkpHdadl--K-Dl_thaRfmfLrnMm

Price:
Event Type:
iCal link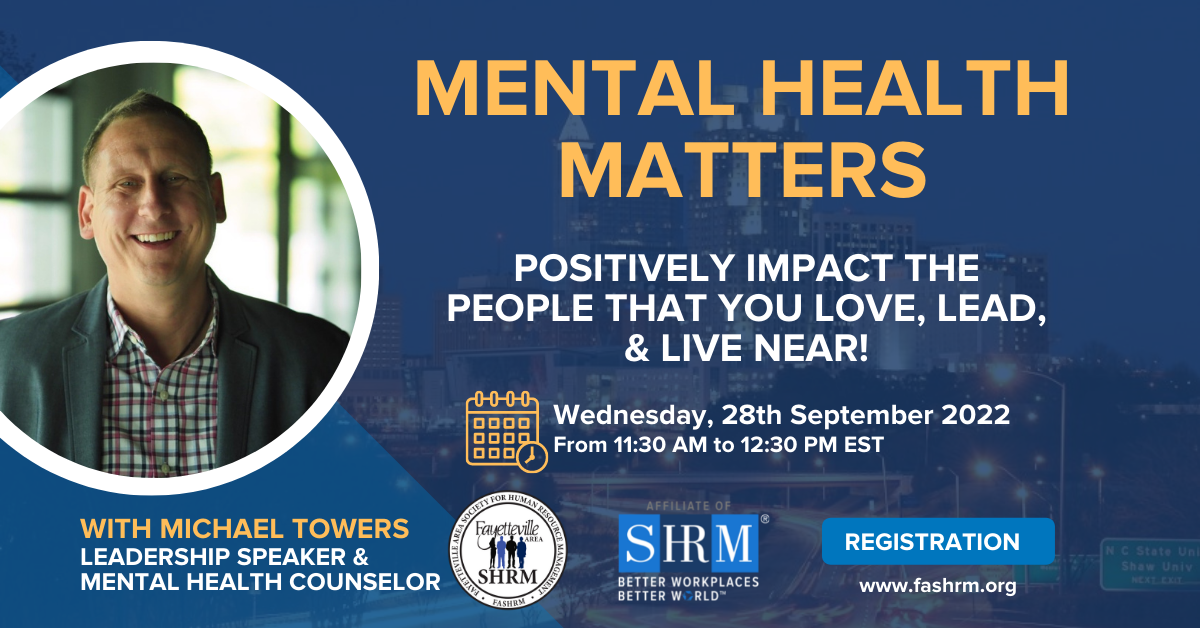 Join us for this month's FASHRM chapter meeing as Michael Towers discusses why Mental Health Matters!
Poor performance, decreased productivity, increased absenteeism, and the inability to attract and retain top talent are the characteristics of a workplace that is not supportive of mental health. Speaking Of Your Success can help you reach your highest potential by empowering leaders with principals that transform company culture.
Below is more information about Michael Towers of Speaking Of Your Success:
Michael's passion for helping people is a product of a lifetime experiencing the damaging consequences of mental illness, addiction, and family dysfunction. Michael has turned his pain into his ministry and wants to use his story to help anyone that wants to rewrite theirs.

Michael's mission is to utilize his expertise in the areas of mental health and chemical dependency counseling to improve the lives of people that suffer. Oftentimes, people struggling with mental illness and addiction cause unintended damage. Hurting people hurt people, and Michael was born with a heart to help hurting people.

Michael's hope is that he can empower others to positively impact the people that they LOVE, LEAD, & LIVE NEAR.
---
Register in advance for this meeting:
https://us02web.zoom.us/meeting/register/tZwtfuqpqDkpHdadl--K-Dl_thaRfmf...
After registering, you will receive a confirmation email containing information about joining the meeting.